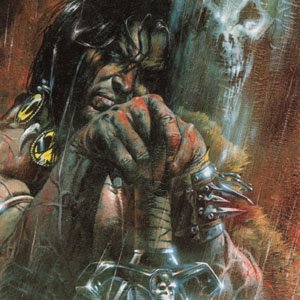 Woxford Brewing: Conan Yeast! What is best in life?
Conan Yeast: To crush your enemies, see them driven before you, and to hear the lamentation of their long-chain-sugars.
Woxford Brewing: That is good! That is good.
While I've never had a Heady Topper, I certainly have already tried to brew a clone.  With the way the beer sounds, who wouldn't?  I don't have access to Heady, so stepping up dregs from the cans was impossible.   After my first clone, Taa Dow, which came out quite nice, though not as nice as the Hop Slam clone, I decided I'd wait until I had some yeast from one of the major labs.
This past month, I've been on a yeast purchase binge.  The smaller labs have been stepping up interesting strains making it easier try out newer (or hard to find) strains.  One of those is the Vermont IPA from Gigayeast.  With the yeast in hand, I started with the Heady clone recipe (version 4.0 that was found on Homebrew Talk forums) and then swapped out some of the hops for some others that sounded like they'd blend well with the peachy aroma from the Conan yeast.
In other news, the chest freezer has finally bit the dust.  The machine is close to 20 years old at this point.  I've had it for 4 years now and it's provided steady service for a cool $90 craigslist find.  I'm searching, but larger chest freezers (15 cu.ft.) tend to go rather quickly around town;  I've emailed no less than 6 sellers, only two responded, both already sold.
I'm eyeing a new one, but finding them roughly half-price or less is a real steal.  This time around, I've promised myself to ensure I do a proper collar so we can have faucet taps.  I already have most of the supplies, so it should be a snap.
Until then, brewnights are bottle-only affairs.  That'll be fun!  Here's my Lamentation IPA, Heady Topper variant.  Let's see how this turns out.
Recipe Details
Batch Size
Boil Time
IBU
SRM
Est. OG
Est. FG
ABV
6 gal
60 min
113.8 IBUs
7.3 SRM
1.072
1.009
8.4 %
Actuals
1.046
1.01
4.7 %
Style Details
| Name | Cat. | OG Range | FG Range | IBU | SRM | Carb | ABV |
| --- | --- | --- | --- | --- | --- | --- | --- |
| Imperial IPA | 14 C | 1.07 - 1.09 | 1.01 - 1.02 | 60 - 120 | 8 - 15 | 2.2 - 2.7 | 7.5 - 10 % |
Fermentables
| Name | Amount | % |
| --- | --- | --- |
| Organic Brewers Malt 2-Row (Briess) | 16 lbs | 88.89 |
| Caramalt (Simpsons) | 8 oz | 2.78 |
| Honey Malt | 8 oz | 2.78 |
| White Wheat Malt | 8 oz | 2.78 |
| Carapils (Briess) | 4 oz | 1.39 |
| Sugar, Table (Sucrose) | 4 oz | 1.39 |
Hops
| Name | Amount | Time | Use | Form | Alpha % |
| --- | --- | --- | --- | --- | --- |
| HopShot | 1.76 oz | 60 min | Boil | Pellet | 10 |
| Amarillo Gold (20120604) | 1 oz | 20 min | Aroma | Pellet | 8.2 |
| Galaxy | 1 oz | 20 min | Aroma | Pellet | 14.8 |
| Palisade | 1 oz | 20 min | Aroma | Pellet | 7.8 |
| Rakau (Alpharoma) | 1 oz | 20 min | Aroma | Pellet | 10.5 |
| Summer (Summer Saaz) | 1 oz | 20 min | Aroma | Pellet | 5.5 |
| Bravo | 1 oz | 7 days | Dry Hop | Pellet | 15.5 |
| Cascade | 1 oz | 7 days | Dry Hop | Pellet | 5.9 |
| Mosaic | 1 oz | 7 days | Dry Hop | Pellet | 11.6 |
| Pacific Jade | 1 oz | 7 days | Dry Hop | Pellet | 13.1 |
Miscs
| Name | Amount | Time | Use | Type |
| --- | --- | --- | --- | --- |
| Epsom Salt (MgSO4) | 3.20 g | 60 min | Mash | Water Agent |
| Gypsum (Calcium Sulfate) | 2.80 g | 60 min | Mash | Water Agent |
| Calcium Chloride | 2.30 g | 60 min | Mash | Water Agent |
| Whirlfloc Tablet | 1.00 Items | 15 min | Boil | Fining |
Yeast
| Name | Lab | Attenuation | Temperature |
| --- | --- | --- | --- |
| Vermont IPA (GY054) | Gigayeast | 80% | 62°F - 75°F |
Mash
| Step | Temperature | Time |
| --- | --- | --- |
| Saccharification | 148°F | 75 min |
| Mash Out | 168°F | 10 min |