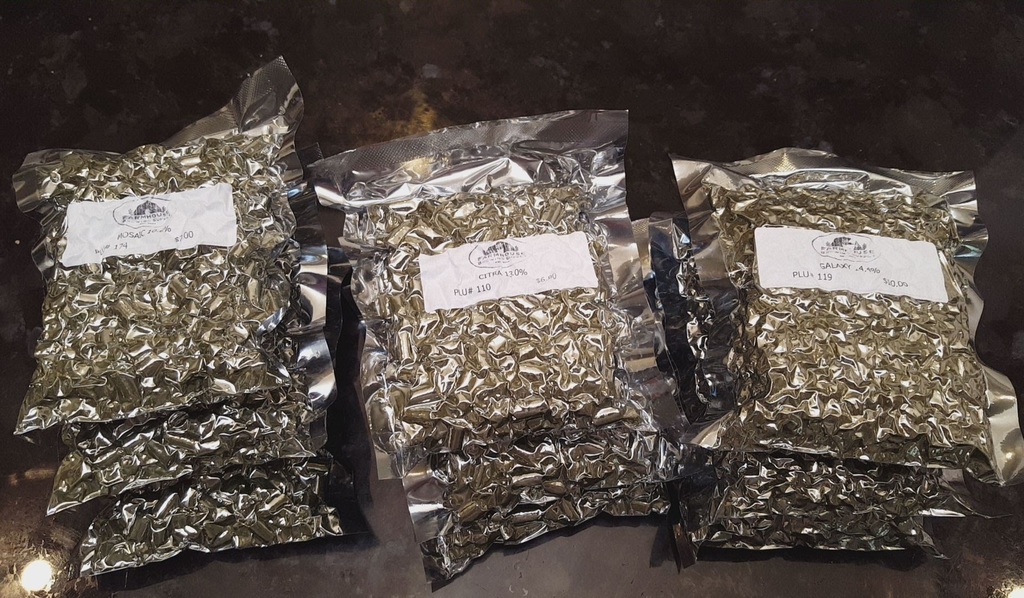 It was only a matter of time.  And now is the time.  The same good friend of mine who was looking for a witbier also wanted something hoppy.  I told him that it was time for me to brew a North Eastern Style IPA that's all the rage on the intertubes.  My first thought was to take my Calma Muerta clone and change it up a bit.  I wasn't so sure that the grain bill and hops would work with the yeast nor match the style.  Luckily there have been quite a few recipes going around and earlier this year The Electric Brewery released a recipe that included a greatly detailed break down of the techniques and recipe changes used to achieve what looks to be a fantastic beer.  I considered the large amount of hops and larger batch size that I'm brewing with and wanted a bit more assurance that things would turn out.  I've scaled up the Electric Hop Candy recipe, tweaked it for my water profile but it's almost identical otherwise.
I wasn't able to get the Wyeast London Ale III (1382) but many folks have said that White Labs Dry English Ale (WLP007) does a really great job as well.  I'm very familiar with WLP007, it's been a favorite of mine.  It's also a great flocculator so I'm interested in how cloudy the result will end up.  There still is a lot of discussion about whether the cloudy appearance is related to hops or yeast, or something else.
This batch will also be compared to an amazing local favorite IPA, Independence Stash IPA.  Stash is a traditional IPA; nothing NEIPA about it, but it's a really high bar of excellence and my friend and I are interested in comparing, contrasting and seeing how other friends compare the beers.
Recipe Details
Batch Size
Boil Time
IBU
SRM
Est. OG
Est. FG
ABV
16 gal
60 min
103.9 IBUs
6.2 SRM
1.065
1.016
6.4 %
Actuals
1.046
1.01
4.7 %
Fermentables
| Name | Amount | % |
| --- | --- | --- |
| Brewer's Malt, 2-Row, Premium (Great Western) | 12.5 lbs | 32.47 |
| Maris Otter (Thomas Fawcett) | 12.5 lbs | 32.47 |
| Oats, Flaked | 5.75 lbs | 14.94 |
| White Wheat Malt | 5.75 lbs | 14.94 |
| Honey Malt | 2 lbs | 5.19 |
Hops
| Name | Amount | Time | Use | Form | Alpha % |
| --- | --- | --- | --- | --- | --- |
| Warrior | 1.33 oz | 60 min | First Wort | Pellet | 15.7 |
| Citra | 2.66 oz | 5 min | Boil | Pellet | 14.4 |
| Galaxy | 2.66 oz | 5 min | Boil | Pellet | 14.8 |
| Mosaic | 2.66 oz | 5 min | Boil | Pellet | 11.6 |
| Citra | 2.66 oz | 30 min | Aroma | Pellet | 14.4 |
| Galaxy | 2.66 oz | 30 min | Aroma | Pellet | 14.8 |
| Mosaic | 2.66 oz | 30 min | Aroma | Pellet | 11.6 |
| Citra | 2.67 oz | 3 days | Dry Hop | Pellet | 14.4 |
| Galaxy | 2.67 oz | 3 days | Dry Hop | Pellet | 14.8 |
| Mosaic | 2.67 oz | 3 days | Dry Hop | Pellet | 11.6 |
| Citra | 2.67 oz | 1 day | Dry Hop | Pellet | 14.4 |
| Galaxy | 2.67 oz | 1 day | Dry Hop | Pellet | 14.8 |
| Mosaic | 2.67 oz | 1 day | Dry Hop | Pellet | 11.6 |
Miscs
| Name | Amount | Time | Use | Type |
| --- | --- | --- | --- | --- |
| Calcium Chloride | 9.20 g | 60 min | Mash | Water Agent |
| Epsom Salt (MgSO4) | 2.50 g | 60 min | Mash | Water Agent |
| Gypsum (Calcium Sulfate) | 2.30 g | 60 min | Mash | Water Agent |
| Phosphoric Acid | 1.20 ml | 60 min | Mash | Water Agent |
Yeast
| Name | Lab | Attenuation | Temperature |
| --- | --- | --- | --- |
| London Ale III (1318) | Wyeast Labs | 73% | 64°F - 74°F |
Mash
| Step | Temperature | Time |
| --- | --- | --- |
| Saccharification | 152°F | 60 min |
| Mash Out | 168°F | 10 min |