The last brew was well on its way to being _the_ one.  A flawless brew day, no hiccups during fermentation.  I even used a forced diacetyl test and ended up raising the temp a few days during the last dry-hop (no thanks to hop creep) to clean things up.  
 To package beer I used purged corny kegs, purged jop strainer and then force-push with CO2 to fill each keg.  Flawless process right?  Two days later this is what's pouring from the tap…
What a huge letdown.  But I've seen this before.  Oxidation.   But from where.  I've brewed about 12 batches of beer with this equipment and I've only used the hop strainer (extra large one) on exactly two batches of Nor'Easter.  The previous one turned color which I assumed was related to the infection I found in my pump but with that now hyper cleansed the only remaining element is the strainer.  I also brewed a pilsner which turned out fantastic and it's still pale as straw on the tap today.  What difference?  No dry-hop which mean no use of the strainer.   This is super frustrating, not to mention costly; hops for NEIPAs aren't cheap. 
I did the only thing I could do: brew another batch and remove the fatal flaw.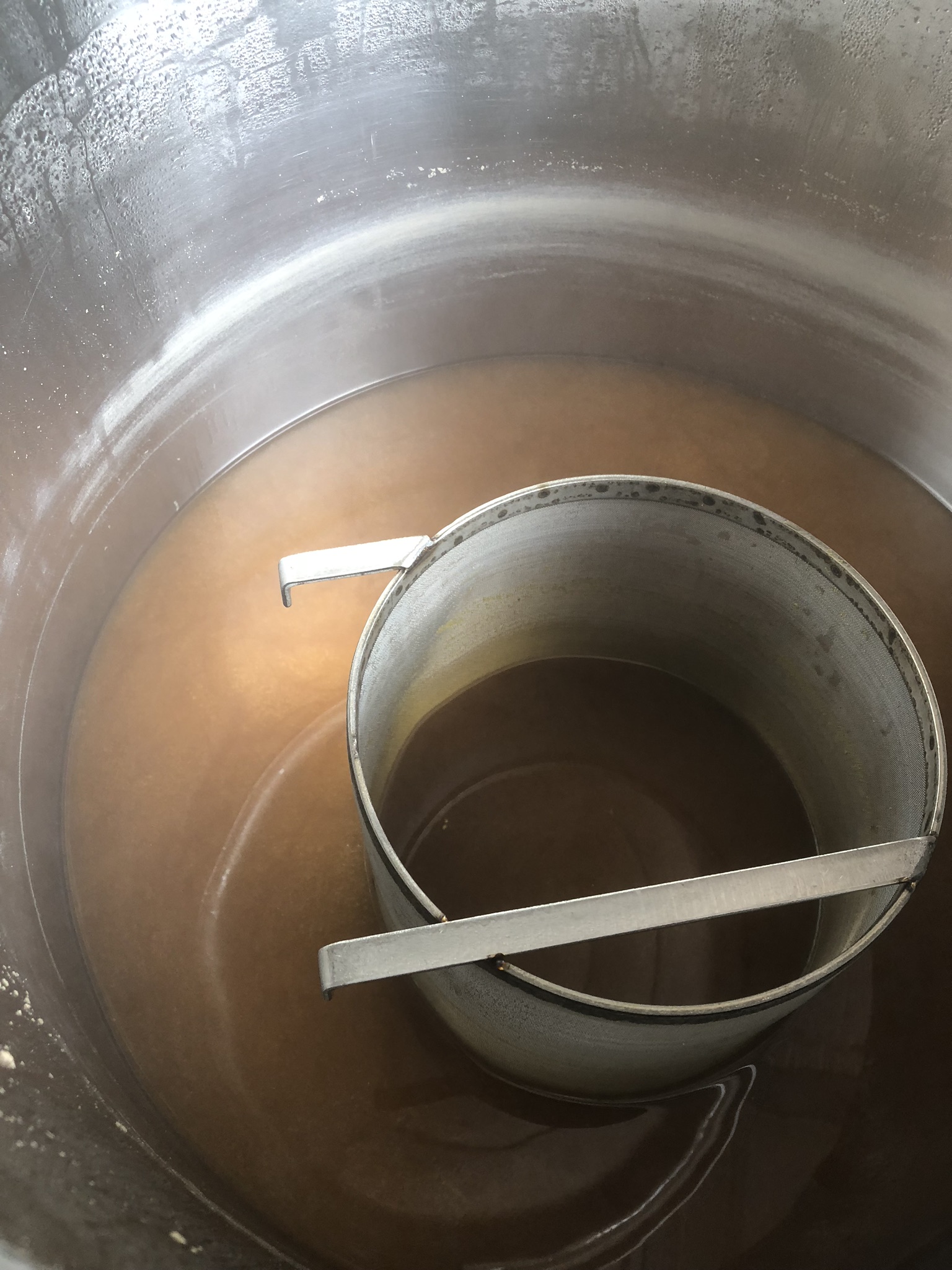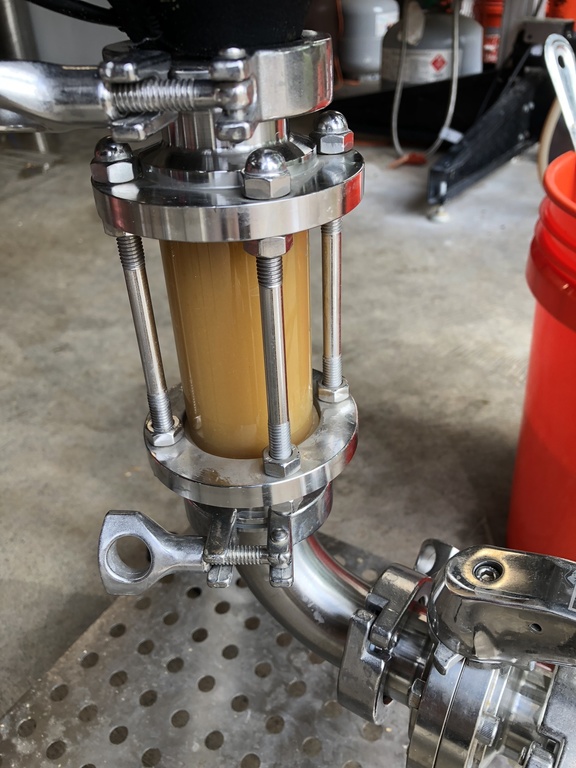 Here's the next iteration, this time with a 60/40 split between regular T-90 pellets and pelletized CryoHops.
Recipe Details
Batch Size
Boil Time
IBU
SRM
Est. OG
Est. FG
ABV
15 gal
60 min
50.5 IBUs
5.7 SRM
1.068
1.014
7.1 %
Actuals
1.061
1.014
6.2 %
Fermentables
| Name | Amount | % |
| --- | --- | --- |
| Brewer's Malt, 2-Row, Premium (Great Western) | 14 lbs | 36.84 |
| Vienna Malt (Weyermann) | 14 lbs | 36.84 |
| Oats, Flaked | 4 lbs | 10.53 |
| White Wheat Malt | 4 lbs | 10.53 |
| Carapils (Briess) | 1 lbs | 2.63 |
| Honey Malt | 1 lbs | 2.63 |
Hops
| Name | Amount | Time | Use | Form | Alpha % |
| --- | --- | --- | --- | --- | --- |
| Cryo - Simcoe | 0.28 oz | 60 min | First Wort | Pellet | 23 |
| Mosaic (HBC 369) | 2.1 oz | 10 min | Aroma | Pellet | 12.3 |
| Simcoe | 1.98 oz | 10 min | Aroma | Pellet | 13 |
| Eukanot | 1.83 oz | 10 min | Aroma | Pellet | 14 |
| Citra | 1.78 oz | 10 min | Aroma | Pellet | 14.4 |
| Cryo - Mosaic | 0.78 oz | 10 min | Aroma | Pellet | 22 |
| Cryo - Simcoe | 0.74 oz | 10 min | Aroma | Pellet | 23 |
| Cryo - Citra | 0.68 oz | 10 min | Aroma | Pellet | 25 |
| Cryo - Eukanot | 0.67 oz | 10 min | Aroma | Pellet | 25.5 |
| Cryo - Citra | 1 oz | 3 days | Dry Hop | Pellet | 25 |
| Cryo - Eukanot | 1 oz | 3 days | Dry Hop | Pellet | 25.5 |
| Cryo - Mosaic | 1 oz | 3 days | Dry Hop | Pellet | 22 |
| Cryo - Simcoe | 1 oz | 3 days | Dry Hop | Pellet | 23 |
| Citra | 1 oz | 2 days | Dry Hop | Pellet | 12 |
| Eukanot | 1 oz | 2 days | Dry Hop | Pellet | 14 |
| Mosaic (HBC 369) | 1 oz | 2 days | Dry Hop | Pellet | 12.3 |
| Simcoe | 1 oz | 2 days | Dry Hop | Pellet | 13 |
Miscs
| Name | Amount | Time | Use | Type |
| --- | --- | --- | --- | --- |
| Calcium Chloride | 7.30 g | 60 min | Mash | Water Agent |
| Epsom Salt (MgSO4) | 2.70 g | 60 min | Mash | Water Agent |
| Gypsum (Calcium Sulfate) | 2.40 g | 60 min | Mash | Water Agent |
| Phosphoric Acid | 1.20 ml | 60 min | Mash | Water Agent |
Yeast
| Name | Lab | Attenuation | Temperature |
| --- | --- | --- | --- |
| San Diego Super Yeast (WLP090) | White Labs | 80% | 65°F - 68°F |
Mash
| Step | Temperature | Time |
| --- | --- | --- |
| Saccharification | 154°F | 60 min |
| Mash Out | 168°F | 10 min |
Notes
Adjust cl:s04 to 1.5 ratio
Use 60/40 pellet/cryo hops throughout
Single dry-hop
1:1 GU:IBU ratio
Swap in 50% base with Vienna for additional malt backbone
Welcome Simcoe to the Hop Club
Gravity bump to 1.071