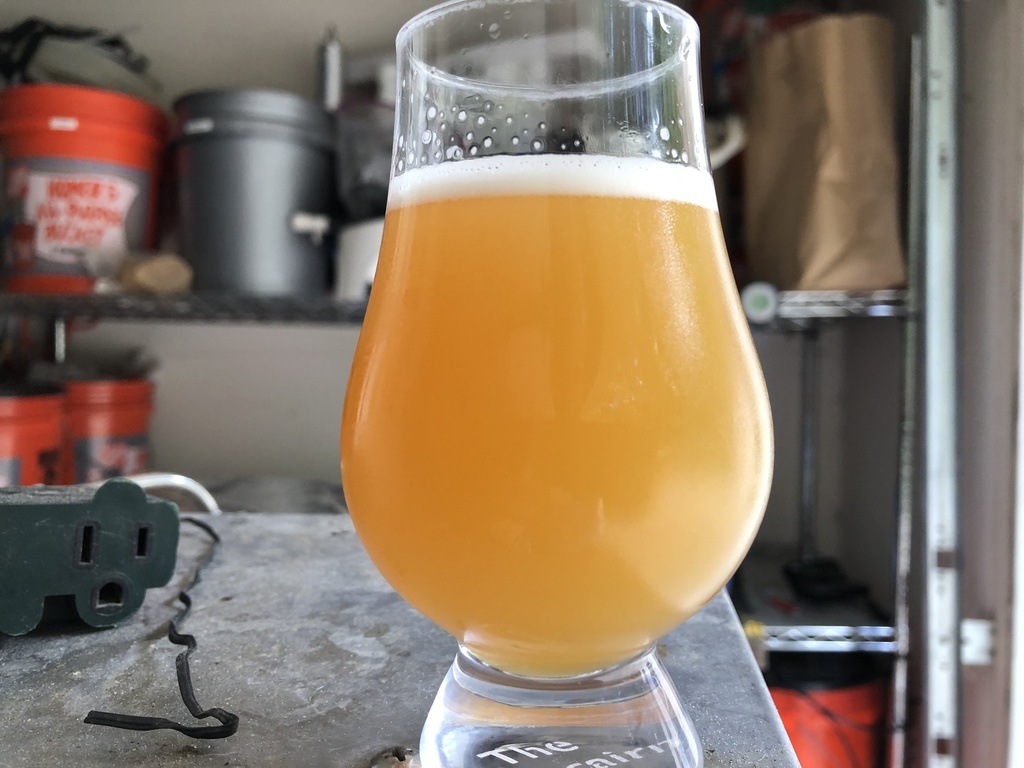 Almost looks too good to be true.  However, as most NEIPA brewers know: oxygen is the enemy.  My previous batch turned out quite excellent, and held it's straw yellow color until the keg floated (just yesterday actually).  This batch tested out a different grain bill, moar hops, of course, and replacing the Huell Melon hop (which is very melon focused, no doubt) with some flavors I prefer:  Mosaic, Meridian, Amarillo, Azacca.  I wanted a more citrus focus.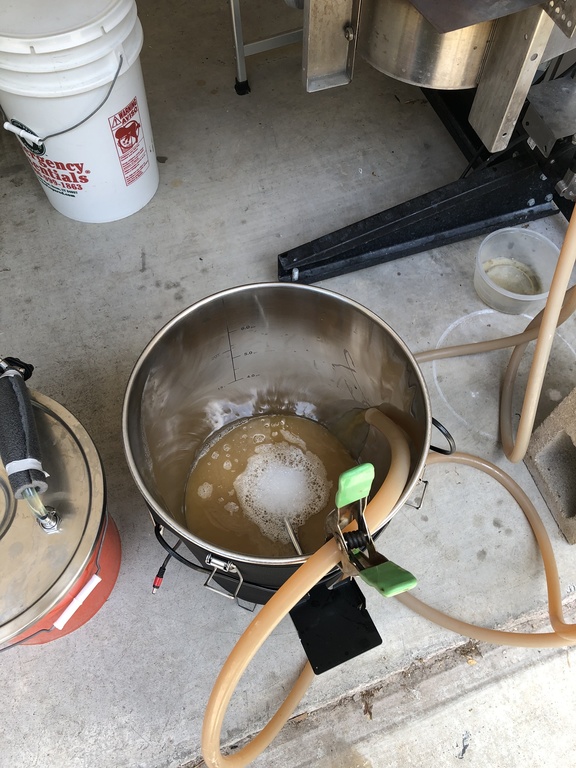 This was my second batch in the brewmaster bucket with FTSS2 connected to the glycol chiller.  The fermentation process went just fine as with the first batch.  I'd pull a sample every day for the first seven days.  I was a bit paranoid that the previous batch had some bit of diacetyl because I kegged the thing after 6 days.  This batch I was determined to avoid this and employed the forced diacetyl tests and held the beer at 71F until I was certain there was nothing left.  After crashing, I dry-hopped the batch with another 4 ounces of hops and things were tasking _amazing_.   Then came transfer day.
Yeah.  I could not get any flow out of this bucket.  You can't pressurize it.  That is possible with modifications and replacing the lid but that isn't easy when using the FTSS coils, and even if I switched it would expose the beer to tons of O2!  I worked the the sample value until it started leaking and was about to come out.  With nothing left to help the transfer all I had left was to _pour_ the beer from the bucket into the keg.
The bucket definitely could not handle that amount of hops and yeast.  And rotating the sample value wasn't helpful as it became loose.  And I had to guess if I had the tube facing upward or down.  No fun at all.   The beer in the end came out alright but the color is full of oxygen now and it'll drink OK but won't last.  I've already found a replacement for this bucket and looking forward to the first beer out of it. For now, here's the recipe. I'll need to repeat this on the new equipment to compare.
Recipe Details
Batch Size
Boil Time
IBU
SRM
Est. OG
Est. FG
ABV
6 gal
60 min
69.4 IBUs
6.0 SRM
1.064
1.019
6.0 %
Actuals
1.064
1.017
6.2 %
Style Details
| Name | Cat. | OG Range | FG Range | IBU | SRM | Carb | ABV |
| --- | --- | --- | --- | --- | --- | --- | --- |
| American IPA | 13 2 | 1.056 - 1.075 | 1.01 - 1.018 | 40 - 70 | 6 - 15 | 2 - 2.8 | 5.5 - 7.5 % |
Fermentables
| Name | Amount | % |
| --- | --- | --- |
| Brewers Malt 2-Row (Briess) | 6.5 lbs | 44.07 |
| Golden Promise (Simpsons) | 5 lbs | 33.9 |
| Carafoam | 1.5 lbs | 10.17 |
| Aromatic Malt (Briess) | 1 lbs | 6.78 |
| Acidulated (BestMälz) | 8 oz | 3.39 |
| Dextrose (Briess) | 4 oz | 1.69 |
Hops
| Name | Amount | Time | Use | Form | Alpha % |
| --- | --- | --- | --- | --- | --- |
| Columbus/Tomahawk/Zeus (CTZ) | 0.35 oz | 30 min | Boil | Pellet | 15.5 |
| Apollo | 1 oz | 20 min | Aroma | Pellet | 18 |
| Azacca | 1 oz | 20 min | Aroma | Pellet | 15 |
| Citra | 1 oz | 20 min | Aroma | Pellet | 14.4 |
| Idaho #7 | 1 oz | 20 min | Aroma | Pellet | 13 |
| Citra | 1 oz | 14 days | Dry Hop | Pellet | 12 |
| Idaho #7 | 1 oz | 14 days | Dry Hop | Pellet | 13 |
| Idaho #7 | 1 oz | 14 days | Dry Hop | Pellet | 13 |
| Meridian | 2 oz | 7 days | Dry Hop | Pellet | 6.5 |
| Mosaic | 2 oz | 7 days | Dry Hop | Pellet | 11.6 |
Miscs
| Name | Amount | Time | Use | Type |
| --- | --- | --- | --- | --- |
| Calcium Chloride | 5.28 g | 60 min | Mash | Water Agent |
| Gypsum (Calcium Sulfate) | 2.64 g | 60 min | Mash | Water Agent |
| Phosphoric Acid | 1.20 ml | 60 min | Mash | Water Agent |
Yeast
| Name | Lab | Attenuation | Temperature |
| --- | --- | --- | --- |
| German Ale/Kolsch (WLP029) | White Labs | 75% | 65°F - 69°F |
Mash
| Step | Temperature | Time |
| --- | --- | --- |
| Saccharification | 158°F | 35 min |
| Mash Out | 168°F | 15 min |
Notes
Calcium Cloride @ 1g / Gal. , Gypsum @ 0.5g / Gal