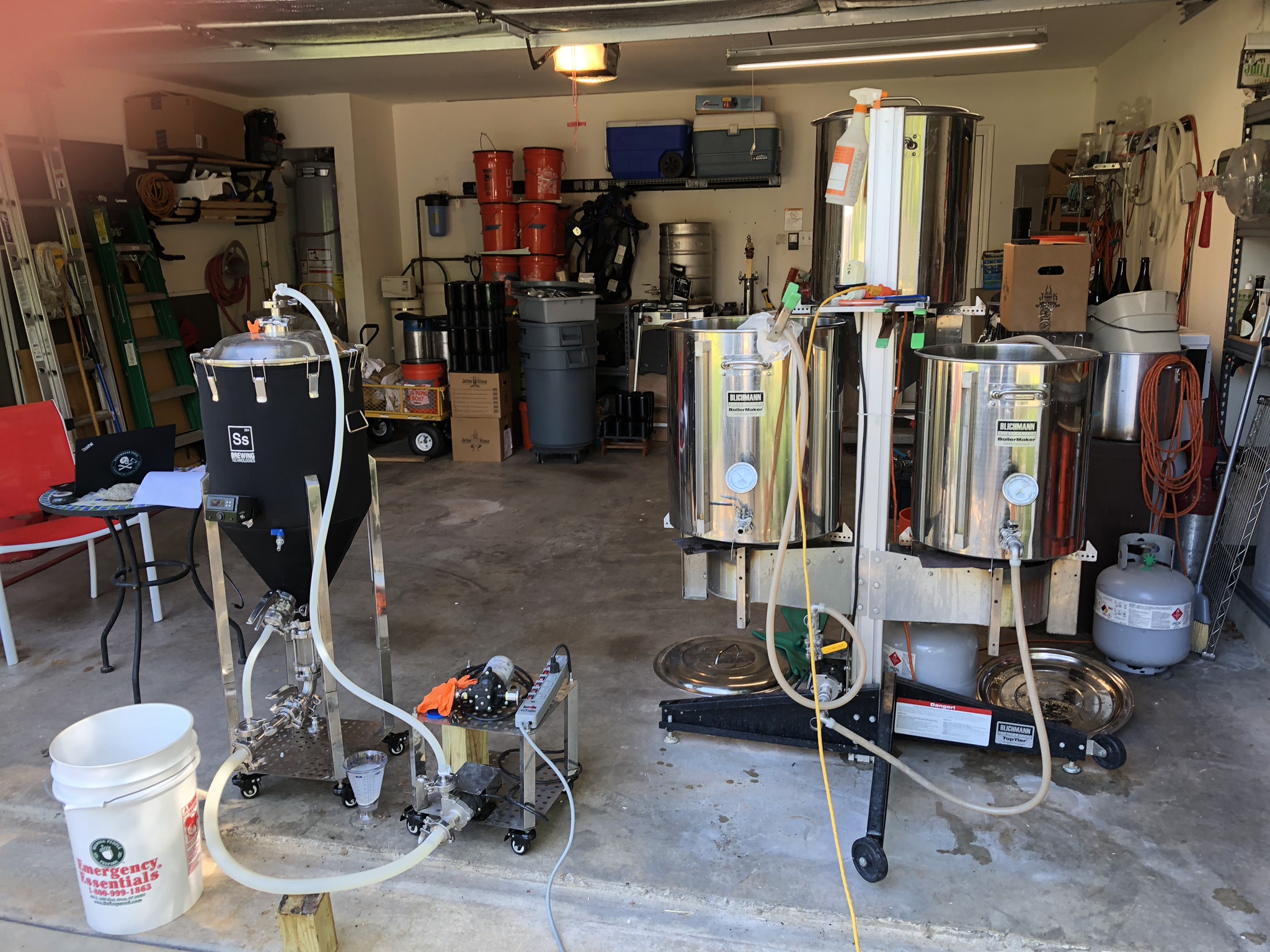 No, I'm not really making a dessert beer NEIPA.  However, making a NEIPA that can stand-up to some of the great examples in and around town has been quite the challenge. My last brew was another round of corrections to address the overly-bitter result. Not Grapefruit Juice was a step in the right direction but it had several issues.
Before I get to that, I do have to mention that the past few NEIPAs that I've done have ended up getting a rather nasty diacetyl flavor days after kegging. I'm particularly sensitive to the off-flavor and really prevented me from drinking any amount of the beer.  I've several friends for whom the level was not something they could detect and they still enjoyed the beer and commented that it was an improvement over the previous version.  Tracking down this problem was quite the challenge.  I first attacked the keg and keg lines.  I didn't find anything of concern and each keg is fully broken down, cycled with hot PWB via Mark's Keg/Carboy washer, sanitized and flushed.  The keg lines use a recirculating PWB line cleaner followed by hot water rinse and sanitizer.  I really was stumped until I ran across this post out on Brülosophy where a long time friend of the site was tracking down a similar issue and worked out some experiments to track down the issue.  The discovery was that the ball-valves on the boil kettle weren't getting direct heat due to the burner design.  This matched my setup, but I had recently switched to a new 30 gallon boil kettle with only a hand full of brews under its belt.  However I have two ball valves on the March pump used for recirculation.   I started the process of breaking those down and let's just say it was *NOT* pretty.  I also broke open the pump itself and found bits of sponge.  I was quite furious with myself.  After switching to a new Chronical which requires a complete break down after each use I just couldn't believe that I hadn't applied that same effort to the post-boil path.
I don't think the diacetyl flaw impacts the bitterness issue so I knew that after tasting Not Grapefruit Juice that something else was going on with the bitterness.  While I was scrubbing away at all of the post-boil parts I did quite a bit more reading on the recent studies around flameout and dry-hop additions imparting bitterness.  Reading through all of those blog posts and papers left me a distinct impression.  Massive dry-hops definitely have a bitterness impact in two ways.  First, additional dry-hopping can result in lower pH which increases perception of bitterness.  Second the non-iso-alpha acid components of hops can contribute actual IBUs to a finished beer.  A deeper look into those studies reveals that hops which do not store as well (these hops have a higher HSI value) result in more IBUs being imparted into the final product when used in dry-hopping.  With this new information in mind, I've put together three new NEIPA recipes to try out.  Taking in all of the change from Not Grapefruit Juice, the biggest change moving forward is a much reduced amount of dry-hop;  the rate of dry-hop previously resulted in bumping the final product by several tens of IBUs.  I've also continued to adjust the malt bill upwards, this time blending with Vienna and targetting 7.5% and a higher overall final gravity; this was featured in the very first recipe I tried.  The next two variants keep the same quantities of hops and gravity bill but will try two different things.  One will re-introduce cryohops but at a 60/40 split between pellet and cryo, accounting for the higher AA in cryohops.  Joe Mohrfeld at Pinthouse Pizza presented early results when using cryohops/powder and found that they get the best results with a blend of pellets and powder.  The last experiment looks to identify hops with fruity, tropical properties but have the lowest HSI value.  The expectation there is that these hops will further reduce the introduction of IBUs into the final product.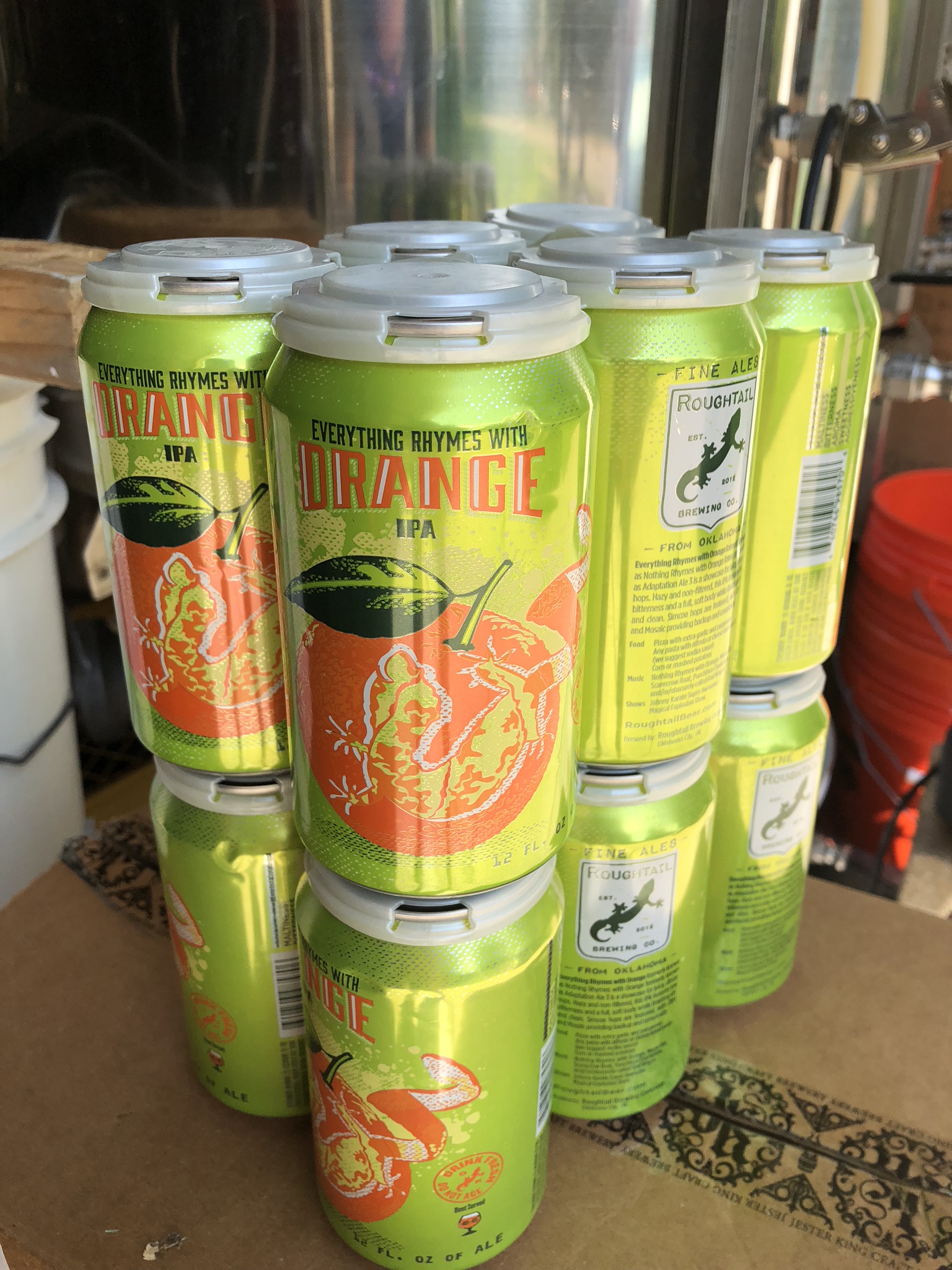 Lastly as a side-note I have been mostly avoiding use of Simcoe for quite some time.  Beers from five or six years ago had massive amounts of Simcoe and had a nice piney almost "cat pee" element.  These memories of flavors do not excite me and I've felt they don't have a place in the softer, juicier IPAs I really like.  I've had several recent NEIPA beers which feature Simcoe as a hop that drives perception of Oranges and Tangerines and have not found these beers to have any of those piney or cat like qualities of the past.  I'm looking forward to giving Simcoe a place in a future NEIPA once I'm on the other side of this battle with bitterness.
Here's the next experiment towards that pillowy soft and juicy beer I crave:
Recipe Details
Batch Size
Boil Time
IBU
SRM
Est. OG
Est. FG
ABV
15 gal
60 min
63.7 IBUs
5.7 SRM
1.068
1.016
6.9 %
Actuals
1.068
1.016
6.9 %
Fermentables
| Name | Amount | % |
| --- | --- | --- |
| Brewer's Malt, 2-Row, Premium (Great Western) | 14 lbs | 36.84 |
| Vienna Malt (Weyermann) | 14 lbs | 36.84 |
| Oats, Flaked | 4 lbs | 10.53 |
| White Wheat Malt | 4 lbs | 10.53 |
| Carapils (Briess) | 1 lbs | 2.63 |
| Honey Malt | 1 lbs | 2.63 |
Hops
| Name | Amount | Time | Use | Form | Alpha % |
| --- | --- | --- | --- | --- | --- |
| Columbus (Tomahawk) | 1.5 oz | 60 min | First Wort | Pellet | 15.3 |
| Amarillo | 2.5 oz | 10 min | Aroma | Pellet | 9.2 |
| Citra | 2.5 oz | 10 min | Aroma | Pellet | 14.4 |
| Mosaic | 2.5 oz | 10 min | Aroma | Pellet | 11.6 |
| Columbus (Tomahawk) | 1.5 oz | 10 min | Aroma | Pellet | 15.3 |
| Amarillo | 2.67 oz | 3 days | Dry Hop | Pellet | 9.2 |
| Citra | 2.67 oz | 3 days | Dry Hop | Pellet | 14.4 |
| Mosaic | 2.67 oz | 3 days | Dry Hop | Pellet | 11.6 |
| Columbus (Tomahawk) | 1.5 oz | 3 days | Dry Hop | Pellet | 15.3 |
Miscs
| Name | Amount | Time | Use | Type |
| --- | --- | --- | --- | --- |
| Calcium Chloride | 7.30 g | 60 min | Mash | Water Agent |
| Epsom Salt (MgSO4) | 2.70 g | 60 min | Mash | Water Agent |
| Gypsum (Calcium Sulfate) | 2.40 g | 60 min | Mash | Water Agent |
| Phosphoric Acid | 1.20 ml | 60 min | Mash | Water Agent |
Yeast
| Name | Lab | Attenuation | Temperature |
| --- | --- | --- | --- |
| San Diego Super Yeast (WLP090) | White Labs | 80% | 65°F - 68°F |
Mash
| Step | Temperature | Time |
| --- | --- | --- |
| Saccharification | 156°F | 60 min |
| Mash Out | 168°F | 10 min |
Notes
Adjust cl:s04 to 1.5 ratio
Use columbus
Single dry-hop
1:1 GU:IBU ratio
Swap in 50% base with Vienna for additional malt backbone
Welcome Amarillo to the Hop Club
Gravity bump to 1.071